All Movies and Projects are for children 6th through 12th Grade
April 11, 2017
6:00-8:00pm
Rated PG
Matilda by Roald Dahl

Matilda is a little girl who is far too good to be true. At age five-and-a-half she's knocking off double-digit multiplication problems and blitz-reading Dickens. Even more remarkably, her classmates love her even though she's a super-nerd and the teacher's pet. But everything is not perfect in Matilda's world. For starters she has two of the most idiotic, self-centered parents who ever lived. Then there's the large, busty nightmare of a school principal, Mrs. ("The") Trunchbull, a former hammer-throwing champion who flings children at will and is approximately as sympathetic as a bulldozer. Fortunately for Matilda, she has the inner resources to deal with such annoyances: astonishing intelligence, saintly patience, and an innate predilection for revenge.

She warms up with some practical jokes aimed at her hapless parents, but the true test comes when she rallies in defense of her teacher, the sweet Miss Honey, against the diabolical Trunchbull. There is never any doubt that Matilda will carry the day. Even so, this wonderful story is far from predictable. Roald Dahl, while keeping the plot moving imaginatively, also has an unerring ear for emotional truth. The reader cares about Matilda because in addition to all her other gifts, she has real feelings.



Story of a wonderful little girl, who happens to be a genius, and her wonderful teacher vs. the worst parents ever and the worst school principal imaginable.

May 9, 2017
6:00-8:00pm
Rated PG
Inkheart by Cornelia Funke


Twelve-year-old Meggie learns that her father, who repairs and binds books for a living, can "read" fictional characters to life when one of those characters abducts them and tries to force him into service.

Characters from books literally leap off the page in this engrossing fantasy. Meggie has had her father to herself since her mother went away when she was young. Mo taught her to read when she was five, and the two share a mutual love of books. He can "read" characters out of books. When she was three, he read aloud from a book called Inkheart and released characters into the real world. At the same time, Meggie's mother disappeared into the story. This "story within a story" will delight not just fantasy fans, but all readers who like an exciting plot with larger-than-life characters.



A young girl discovers her father has an amazing talent to bring characters out of their books and must try to stop a freed villain from destroying them all, with the help of her father, her aunt, and a storybook's hero.



June 13, 2017




2:00-4:00pm




Rated PG-13




The Fault in our Stars by John Green



"I fell in love the way you fall asleep: slowly, then all at once."

Despite the tumor-shrinking medical miracle that has bought her a few years, Hazel has never been anything but terminal, her final chapter inscribed upon diagnosis. But when a gorgeous plot twist named Augustus Waters suddenly appears at Cancer Kid Support Group, Hazel's story is about to be completely rewritten.

Insightful, bold, irreverent, and raw, The Fault in Our Stars is award-winning author John Green's most ambitious and heartbreaking work yet, brilliantly exploring the funny, thrilling, and tragic business of being alive and in love.



Two teenage cancer patients begin a life-affirming journey to visit a reclusive author in Amsterdam.



July 11, 2017




2:00-4:00pm




Rated PG-13




If I Stay by Gayle Forman



Just listen, Adam says with a voice that sounds like shrapnel.

I open my eyes wide now.
I sit up as much as I can.
And I listen.

Stay, he says.

Choices. Seventeen-year-old Mia is faced with some tough ones: Stay true to her first love—music—even if it means losing her boyfriend and leaving her family and friends behind?

Then one February morning Mia goes for a drive with her family, and in an instant, everything changes. Suddenly, all the choices are gone, except one. And it's the only one that matters.

If I Stay is a heartachingly beautiful book about the power of love, the true meaning of family, and the choices we all make.



Life changes in an instant for young Mia Hall after a car accident puts her in a coma. During an out-of-body experience, she must decide whether to wake up and live a life far different than she had imagined. The choice is hers if she can go on.

August 8, 2017
6:00-8:00pm
Rated PG
Eragon by Christopher Paolini


One boy. One dragon. A world of adventure.
When Eragon finds a polished blue stone in the forest, he thinks it is the lucky discovery of a poor farm boy; perhaps it will buy his family meat for the winter. But when the stone brings a dragon hatchling, Eragon realizes he has stumbled upon a legacy nearly as old as the Empire itself.

Overnight his simple life is shattered, and he is thrust into a perilous new world of destiny, magic, and power. With only an ancient sword and the advice of an old storyteller for guidance, Eragon and the fledgling dragon must navigate the dangerous terrain and dark enemies of an Empire ruled by a king whose evil knows no bounds.

Can Eragon take up the mantle of the legendary Dragon Riders? The fate of the Empire may rest in his hands.



In his homeland of Alagaesia, a farm boy happens upon a dragon's egg -- a discovery that leads him on a predestined journey where he realizes he's the one person who can defend his home against an evil king.

No Movie Night in June or July Due to Summer Reading

September 12, 2017
6:00-8:00pm
Rated G
Charlie and the Chocolate Factory by Roald Dahl


Willy Wonka's famous chocolate factory is opening at last!

But only five lucky children will be allowed inside. And the winners are: Augustus Gloop, an enormously fat boy whose hobby is eating; Veruca Salt, a spoiled-rotten brat whose parents are wrapped around her little finger; Violet Beauregarde, a dim-witted gum-chewer with the fastest jaws around; Mike Teavee, a toy pistol-toting gangster-in-training who is obsessed with television; and Charlie Bucket, Our Hero, a boy who is honest and kind, brave and true, and good and ready for the wildest time of his life!



Charlie receives a golden ticket to a factory, his sweet tooth wants going into the lushing candy, it turns out there's an adventure in everything.

October 10, 2017
6:00-8:00PM
Rated PG-13
Miss Peregrine's Home For Peculiar Children by Ransom Riggs


A mysterious island. An abandoned orphanage. A strange collection of curious photographs.

A horrific family tragedy sets sixteen-year-old Jacob journeying to a remote island off the coast of Wales, where he discovers the crumbling ruins of Miss Peregrine's Home for Peculiar Children. As Jacob explores its abandoned bedrooms and hallways, it becomes clear that the children were more than just peculiar. They may have been dangerous. They may have been quarantined on a deserted island for good reason. And somehow—impossible though it seems—they may still be alive.



When Jacob discovers clues to a mystery that stretches across time, he finds Miss Peregrine's Home for Peculiar Children. But the danger deepens after he gets to know the residents and learns about their special powers.

November 144, 2017
6:00-8:00pm
Rated PG
Holes by Louis Sachar

Stanley Yelnats is under a curse. A curse that began with his no-good-dirty-rotten-pig-stealing-great-great-grandfather and has since followed generations of Yelnatses. Now Stanley has been unjustly sent to a boys' detention center, Camp Green Lake, where the boys build character by spending all day, every day digging holes exactly five feet wide and five feet deep. There is no lake at Camp Green Lake. But there are an awful lot of holes.

It doesn't take long for Stanley to realize there's more than character improvement going on at Camp Green Lake. The boys are digging holes because the warden is looking for something. But what could be buried under a dried-up lake? Stanley tries to dig up the truth in this inventive and darkly humorous tale of crime and punishment—and redemption.



A wrongfully convicted boy is sent to a brutal desert detention camp where he joins the job of digging holes for some mysterious reason.

December 12, 2017
6:00-8:00pm
Rated PG
Alice in Wonderland by Lewis Carrol


Alice was beginning to get very tired of sitting by her sister on the bank, and of having nothing to do: once or twice she had peeped into the book her sister was reading, but it had no pictures or conversations in it, "and what is the use of a book," thought Alice, "without pictures or conversations?"

So begins the tale of Alice, following a curious White Rabbit down a rabbit-hole and falling into Wonderland. A fantastical place, where nothing is quite as it seems: animals talk, nonsensical characters confuse, Mad Hatter's throw tea parties and the Queen plays croquet. Alice's attempts to find her way home become increasingly bizarre, infuriating and amazing in turn. A beloved classic, Alice's Adventures in Wonderland

has continued to delight readers, young and old for over a century.



Nineteen-year-old Alice returns to the magical world from her childhood adventure, where she reunites with her old friends and learns of her true destiny: to end the Red Queen's reign of terror.

January 9, 2018
6:00-8:00pm
Rated PG
The Neverending Story by Michael Ende


This epic work of the imagination has captured the hearts of millions of readers worldwide since it was first published more than a decade ago. Its special story within a story is an irresistible invitation for readers to become part of the book itself. And now this modern classic and bibliophile's dream is available in hardcover again.

The story begins with a lonely boy named Bastian and the strange book that draws him into the beautiful but doomed world of Fantastica. Only a human can save this enchanted place--by giving its ruler, the Childlike Empress, a new name. But the journey to her tower leads through lands of dragons, giants, monsters, and magic--and once Bastian begins his quest, he may never return. As he is drawn deeper into Fantastica, he must find the courage to face unspeakable foes and the mysteries of his own heart.

Readers, too, can travel to the wondrous, unforgettable world of Fantastica if they will just turn the page....



A troubled boy dives into a wondrous fantasy world through the pages of a mysterious book.

February 13, 2018
6:00-8:00pm
Rated PG
The Bad Beginning by Lemony Snicket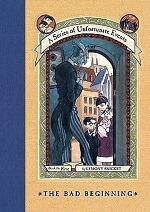 Dear Reader,

I'm sorry to say that the book you are holding in your hands is extremely unpleasant. It tells an unhappy tale about three very unlucky children. Even though they are charming and clever, the Baudelaire siblings lead lives filled with misery and woe. From the very first page of this book when the children are at the beach and receive terrible news, continuing on through the entire story, disaster lurks at their heels. One might say they are magnets for misfortune.

In this short book alone, the three youngsters encounter a greedy and repulsive villain, itchy clothing, a disastrous fire, a plot to steal their fortune, and cold porridge for breakfast.

It is my sad duty to write down these unpleasant tales, but there is nothing stopping you from putting this book down at once and reading something happy, if you prefer that sort of thing.

With all due respect,
Lemony Snicket



When a massive fire kills their parents, three children are delivered to the custody of cousin and stage actor Count Olaf, who is secretly plotting to steal their parents' vast fortune.

March 13, 2018
6:00-8:00pm
Rated PG
Bridge to Terabithia by Katherine Paterson


Jess Aarons' greatest ambition is to be the fastest runner in his grade. He's been practicing all summer and can't wait to see his classmates' faces when he beats them all. But on the first day of school, a new girl boldly crosses over to the boys' side and outruns everyone.

That's not a very promising beginning for a friendship, but Jess and Leslie Burke become inseparable. Together they create Terabithia, a magical kingdom in the woods where the two of them reign as king and queen, and their imaginations set the only limits.



A preteen's life turns upside down when he befriends the new girl in school and they imagine a whole new fantasy world to escape reality.

April 10, 2018
6:00-8:00pm
Rated PG-13
City of Bones by Cassandra Clare


When fifteen-year-old Clary Fray heads out to the Pandemonium Club in New York City, she hardly expects to witness a murder― much less a murder committed by three teenagers covered with strange tattoos and brandishing bizarre weapons. Then the body disappears into thin air. It's hard to call the police when the murderers are invisible to everyone else and when there is nothing―not even a smear of blood―to show that a boy has died. Or was he a boy?

This is Clary's first meeting with the Shadowhunters, warriors dedicated to ridding the earth of demons. It's also her first encounter with Jace, a Shadowhunter who looks a little like an angel and acts a lot like a jerk. Within twenty-four hours Clary is pulled into Jace's world with a vengeance, when her mother disappears and Clary herself is attacked by a demon. But why would demons be interested in ordinary mundanes like Clary and her mother? And how did Clary suddenly get the Sight? The Shadowhunters would like to know...





When her mother disappears, Clary Fray learns that she descends from a line of warriors who protect our world from demons. She joins forces with others like her and heads into a dangerous alternate New York called the Shadow World.